Vi brænder for et godt indeklima
Vi er en virksomhed i vækst og fokuserer hele tiden på at udbrede kendskabet til vores produkter og brænder for at skabe et godt indeklima i din bolig. Vi er to stiftere i Rent-indeklima og udover os har vi et stigende antal medarbejdere. Vores ønske er at kunne fortælle alle danske husstande om vores unikke produkter, som kan være med til at skabe et godt indeklima.
Fra kollegaer til partnere
Omkring 2008 gik vi fra at være kollegaer til at være forretningspartnere. Vi stiftede vores første firma Strompeland.dk. Vores idé med strompeland.dk var at tilbyde kvalitetsstrømper til private, samt engros salg til mindre butikker og erhvervsdrivende.
Senere lukkede vi hjemmesiden og inkluderede i stedet produkterne under en ny side kaldet www.dogan-world.dk, som stadig er eksisterende i dag. Senere, med Geos erfaring fra salg af Roboclean, oprettede vi sammen rent-indeklima.dk. Hermed var fundamentet for rent-indeklima.dk lagt.
Importrettighederne til Roboclean SPlus
var vi så heldige, at i 2017 fik vi importrettighederne til Roboclean SPlus. Dette er vores multirengøringsmaskine og drivkraften bag vores virke i dag, nemlig at få et godt indeklima. Med Roboclean SPlus kan vi tilbyde en bedre luftkvalitet og en nemmere, samt mere miljørigtig rengøring, som vi har haft stor succes med lige siden vores lancering af produktet.
Vores kunder er glade for, at vi tilbyder en maskine der udelukkende er baseret på et vandfilter, som er nemt at arbejde med og samtidig sikrer det økonomiske perspektiv. Derfor vil vi rigtig gerne høre dine gode historier eller din konstruktive kritik.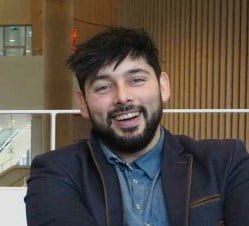 Om Seref "Geo" Dogan
Geo har stor erfaring indenfor salg af multirengøringsmaskiner med vandfiltrering til private og erhvervskunder. Geo er uddannet markedsføringsøkonom og desuden familiefar til 2 børn. Han startede i branchen i slutningen af januar 2006, hvor han blev forhandler af Roboclean, som på det tidspunkt blev solgt af et andet eksisterende firma i Danmark. Kort tid efter fik Geo sin egen afdeling i Kolding som Regionschef for Syd- og Sønderjylland. Han var med til at sælge Roboclean maskiner frem til 2010, hvor han derefter skiftede til et andet firma i branchen.
Om Niels Lemming
Niels Lemming har ligeledes stor erfaring indenfor salg af multirengøringsmaskiner baseret på et vandfilter. Niels Lemming startede nemlig sin salgskarriere ved at blive ansat i Geos afdeling som deltidsforhandler i 2007. Niels fik en god start og var en af de bærende kræfter i Geos afdeling i en årrække. Niels Lemming kommer fra den gamle skole med mange års erfaring fra landbruget, samt slagteriarbejder hos Danish Crown. Niels er gift og familiefar til 3 børn.
Hvem er vores kunder?
Vores kunder er alle, der ønsker og prioriterer et godt indeklima. Det vil sige, at det både gælder private og erhvervskunder. Størstedelen af vores forhandlere er uddannet til at køre ud til private kunder, hvor vi efter aftale kommer ud og laver en uforpligtende fremvisning af vores Roboclean SPlus. Vi har naturligvis også forhandlere som har ekspertise til at varetage besøg hos vores erhvervskunder.
Vores medarbejdere
Vi udvælger vores forhandlere ret nøje og forsøger hele tiden at spotte de rette folk, som passer bedst til at varetage salget af vores produkter. Vi værdsætter, at vores kunder får en rigtig god oplevelse, når vi har været på besøg. Derfor er det også vigtigt, at vores personale er de rigtige typer, som vores kunder kan lide og have tillid til.
Vi lever af at have glade kunder, som er motivationen for os og den måde vi arbejder på. Derfor er vi begge med i ansættelsesprocessen, når vi får nye kolleger med på holdet. Vores mission er at give et rent-indeklima til alle danskere, og den mission skal vores nye medarbejdere også have.